The team at Pipella Law was touched that former clients made a $2,000 donation to the Kidney Foundation of Canada, which was subsequently matched 100% by the clients' business, bringing it to a total of $4,000, which was donated in gratitude for Pipella Law's services.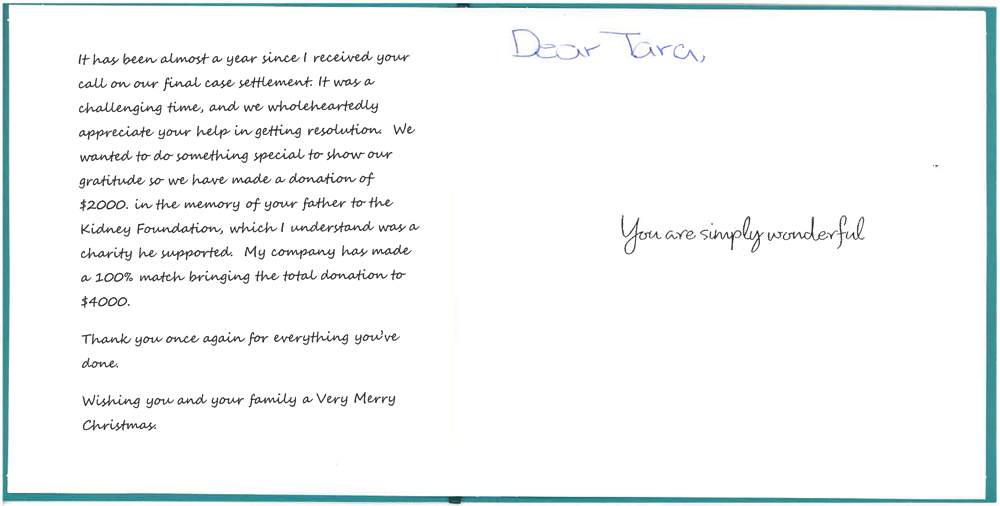 In a beautiful note received by the Pipella Law team, the thankful clients said that the donation was made in the memory of the late Edward S. Pipella, founder of Pipella Law and philanthropic supporter of The Kidney Foundation of Canada.
The Kidney Foundation of Canada
The Kidney Foundation of Canada "exists for the enhancement of kidney health and the reduction and, if possible, the elimination of the burden of kidney diseases. The primary beneficiaries are people at risk of or affected by kidney disease."
The Kidney Foundation of Canada, relying on donations and volunteers, offers hope, support, empowerment, and engagement—services provided by the foundation include:
Providing information to those at risk of developing kidney disease;
Giving sick kids a summer camp respite from their usual routines; and
Short-term financial assistance for patients with kidney disease.
Pipella Law: Building Community
The team at Pipella Law believes in giving back to the community, and are deeply moved to have inspired such unbridled generosity from our extended family.
If you have suffered a personal injury, contact the personal injury lawyers at Pipella Law today to learn how they can help you recover from this traumatic experience.