"Kidney March is more than an event. It is a movement to action. It is a community of people rallying in support of each other. It is an experience that will take you beyond your limits but reward you for pushing those limits in more ways than you ever thought it would." Winding through Kananaskis Country in the shadow of Alberta's breathtaking Rocky Mountains, Kidney March sees hundreds of marchers touched by kidney disease trek 100 kilometres in three days, from the Millarville Racetrack, to Calgary's Canada Olympic Park.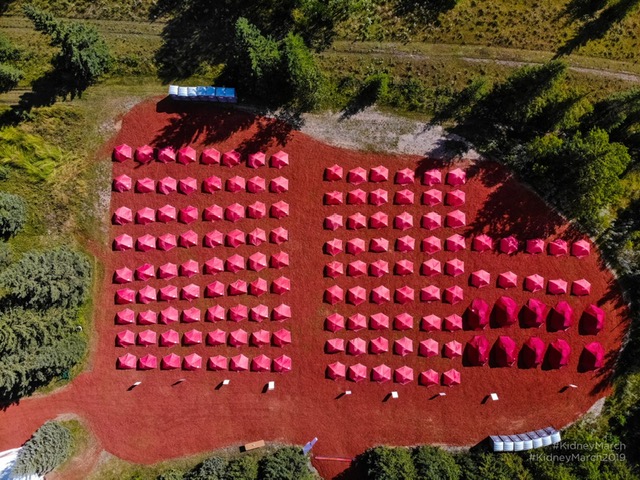 In addition to the en-route amenities provided by 10 pit stops (including music, water, electrolyte drinks, snacks, toilets, and cheering crews), marchers can enjoy an overnight camp in the Foothills loaded with amenities (like the Pipella Law-sponsored charging station, showers, a dedicated dining tent, medical support, a general store, and even a central stage for "Kidney-O-Kee"). But the joyful camaraderie of Kidney March is only part of the reason hundreds voyage through one of southern Alberta's beautiful natural spaces.
Why We March
The Kidney Foundation of Canada says that a crisis is looming in Canada; "3.5 Million Canadians have chronic kidney disease or are at risk. Most people don't even know, and won't until it's too late. In Southern Alberta alone, the number of people with kidney failure has doubled in the last decade. 76% of people on the organ donor list are waiting for a kidney." Kidney disease is irreversible, and responsible for thousands of annual deaths in Canada alone. The physical, emotional, and financial impact of kidney disease devastates entire families.
The funds raised by Kidney March are vital in supporting people afflicted with kidney disease, their families, and their communities—and, hopefully, working towards a cure.
Pipella Law: Marching With You
Pipella Law is proud to have supported 2019 Kidney March.
If you have suffered a personal injury, contact the personal injury lawyers at Pipella Law today to learn how they can help you recover from this traumatic experience.